The old adage that children should be seen but not heard should perhaps be re-written for theatre where children—particularly babies—are often treated like intruders on an adult-only space and are expected to be neither seen nor heard. But things will be different at Soho Theatre at the matinee of Morgan Lloyd Malcolm's Mum on November 6 when the theatre will be full of parents and the under-ones. All power to Soho for recognising that new parents don't want to wait until their off-spring are fully grown up until they can take up the threads of their cultural lives.
It's not the first time that London theatre has pioneered parent and baby performances of plays. Back in 2019 the foyers of the Vaudeville theatre were crammed with buggys as Lloyd Malcolm's Emilia, a feminist roof raising account of the life of Emilia Bassano-- a contemporary of Shakespeare, who some believe is the dark lady of the sonnets-- played a parent and baby performance.
"Some of the actors said it was a bit like trying to perform by the side of a motorway. Ninety babies definitely aren't quiet in the theatre, but it was completely joyous" recalls Lloyd Malcolm. "When it got to the final speech, they all went quiet as if they were listening very hard, but I expect they had just all gone to sleep."

Image from Emilia at the Vaudeville Theatre. Photo by Helen Murray.
"There is a widespread idea that women are supposed to embrace motherhood and take it in their stride. I wanted to be honest about it and the changes it brings and the way it affects mental health."
If Emilia was about the unseen lives of women and particularly women artists, then Lloyd Malcolm's latest, Mum, is a play that asks searching questions about early motherhood, the terror, the uncertainty, and the sleep-deprived confusion.
Rachel Cusk, the Novelist and playwright (she provided a particularly pungent version of Medea for the Almeida in 2015) has written well about motherhood describing it as "a sort of wilderness through which each women hacks her way, part martyr, part pioneer, a turn of events from which some women derive feelings of heroism, while others experience a sense of exile from the world they knew."
Or as theatre-maker Matilda Leyser put it in her first invitation to form the group Mothers Who Make back in 2014, her determination that following the birth of her son she would simply put her child in a sling and carry on was replaced by the realisation that she had had to "set down my life, my sense of who and how I am. Slowly, awkwardly, shakily I pick myself up day by day. I would not have it any other way, but it is a huge challenge."
One that theatre often hasn't addressed either in its own working practices or on its stages. A rare but delicious exploration of the disruption a baby brings was Theatre-Rites' and Sue Buckmaster's 2015 show Beasty Baby, which although intended for 3-6 years spoke some of the hard truths about parenthood that are seldom held. Lucy Kirkwood and Ed Hime's Small Hours, directed by Katie Mitchell, at Hampstead Downstairs in 2011 tackled post-natal depression, and in Magali Mougel's Suzy Storck at the Gate in 2017 a woman is held hostage by the twin binds of patriarchy and motherhood in thrall to a baby which never stops crying.
But these are exceptions rather than the rule. Maybe that is changing: over the next few weeks London will see two plays—Lloyd Malcolm's Mum at Soho and Mathilde Dratwa's Milk and Gall at Theatre 503—that explore the dislocating feelings and sometimes desolation of early motherhood when all you crave is just one unbroken night's sleep. Both plays come from the personal experience of early motherhood. Dratwa's is also inspired by the election of Donald Trump in 2016.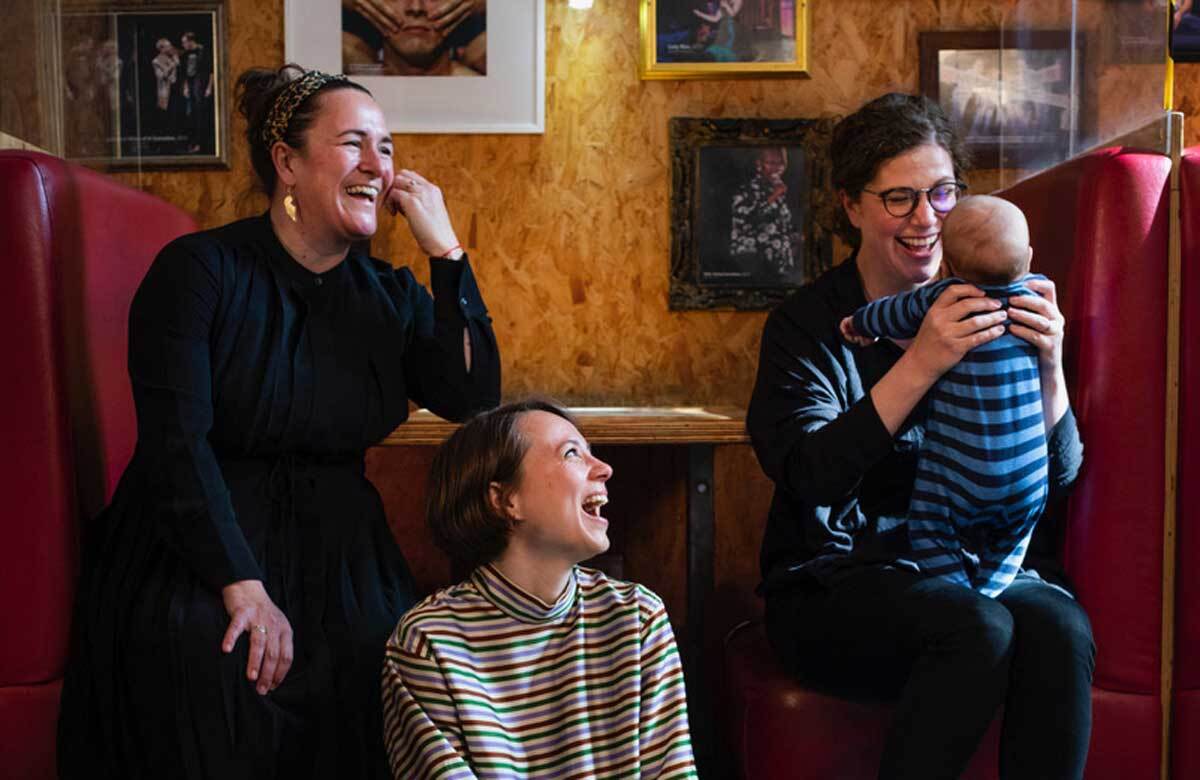 Mum playwright Morgan Lloyd Malcolm, producer Francesca Moody and director Abigail Graham with her baby, Jonah. Photo by Jeremy Freedman.
"For many women, it's not easy. I wanted to write a play that showed that in a way we don't often see."
"When I had my first child motherhood wasn't what I expected," recalls Lloyd Malcom. "I felt nobody had warned me what it would be like. I was sleep deprived. I don't think I had post-natal depression, but I did have intrusive thoughts and post-natal anxiety. Which are really common." But often not widely talked about.
Lloyd Malcolm drew on those feelings to write Nina in Mum who is three months into first time motherhood and dealing with birth trauma (common and often unrecognised), sleep deprivation, grief, and anxiety.
"It's such a lot she is dealing with and one of things you learn very quickly about babies that there is nothing reasonable about them, and in those early days they don't give a lot back, and they are often quite boring but very demanding."
She wrote the play after the success of The Wasp at Hampstead Theatre and Trafalgar Studios back in 2015, a play in which a successful woman who was bullied at school confronts one of her former tormentors.
"I asked myself the question what was it I most scared of, and the answer was that I would do something so terrible that somebody would take my kids away from me." She began formulating the idea that became Mum after talking to an uncle who had experience as an expert paediatrician in child protection cases. "I channelled my own fears into the play, and throughout you don't know quite what is true and what isn't which is often how you feel in those early days of parenthood."
Why does Lloyd Morgan think that we don't talk openly about the pressures of motherhood?
"There is a widespread idea that women are supposed to embrace motherhood and take it in their stride. I wanted to be honest about it and the changes it brings and the way it affects mental health. For many women, it's not easy. I wanted to write a play that showed that in a way we don't often see."
Mum is running at the Soho Theatre until Sat 20 Nov, 2021. You can find tickets here.
Cover image from Mum